This is an archived article and the information in the article may be outdated. Please look at the time stamp on the story to see when it was last updated.
A woman was killed and two male pedestrians were critically injured after a car jumped a curb and struck the three victims before hitting two other vehicles in Monterey Park on Friday, police said.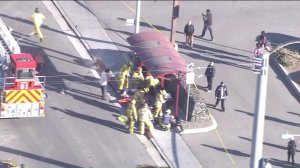 The collision occurred on Garfield Avenue just north of Garvey Avenue around 8 a.m. The driver, a woman in her 70s, hit the pedestrians as they were crossing the sidewalk, according to the Monterey Park Police Department.
"The three individuals, two of them were thrown into and collided into the bus bench, while one individual, a female, was thrown onto the roadway," said police Sgt. Bob Hung.
The female victim was pronounced dead at the scene. Her name has not yet been released.
The two other victims were transported to the hospital in critical condition, according to police.  In addition to striking three pedestrians, the SUV plowed into two other vehicles before coming to a rest near the intersection.
Witnesses said one driver involved in the multivehicle crash ran from the scene, but the others drivers stayed.
A female driver was transported to a hospital in unknown condition, according to Monterey Park Lt. Gus Jimenez. Another driver told KTLA through an interpreter it was the woman who was behind the wheel of the SUV who hit the pedestrians, though that has not yet been confirmed by police.
Police did not release the ages of the pedestrians and drivers, but described them all as "seniors."
Garfield and Garvey avenues were temporarily closed as police investigated the deadly crash, which remains under investigation.
No additional information has been released.