This is an archived article and the information in the article may be outdated. Please look at the time stamp on the story to see when it was last updated.
Nearly six months after an LMU student was raped at an off-campus Halloween party, the university has offered a $20,000 reward to anyone who can provide information leading to the arrest and successful conviction of the assailant, school officials recently said.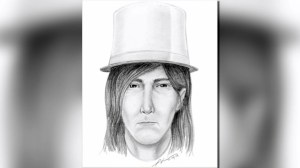 "This is not something we would normally do," Loyola Marymount University Vice President of Communications and Government Relations Kathleen Flanagan said. "However, after months of investigation by both the police and our Department of Public Safety, we have no leads. We hope this could make a difference. A reward might encourage someone to come forward."
A campus news release announcing the reward on Tuesday states the student was raped shortly after midnight on Nov. 1, 2014, in the 8700 block of Yorktown Avenue in Westchester (map).
"Most sexual assault involves a known suspect. In this case, the facts point to an unknown assailant," Flanagan said in an email statement.
The man being sought was described as a white man in his early 20s, standing about 6 feet tall and weighing about 170 pounds. At the time of the assault he was wearing a white top hat, white shirt and dark pants. It was unknown if he is an LMU student.
The reward was announced about two weeks after the victim's parents wrote in LMU's student-run newspaper about their struggle to find their daughter's rapist.
"We need the people who attended this party to step up and be real adults, come forward and tell the truth," the article, signed by "parents of an LMU student," stated. "We need them to show half the courage our daughter has shown. Anyone who was at the party who has not been interviewed by LAPD – contact them and contribute to catching this rapist."
The parents allege that fewer than 50 people were at the party, hosted by the unsanctioned Sigma Alpha Epsilon, SAE, fraternity.
About one month after the rape, LMU warned students not to attend off-campus parties or events, and specifically mentioned SAE, the campus newspaper reported.
"Based upon this new information, and given the potential for ongoing safety and security risks, the university strongly recommends that all students and LMU community members consider avoiding events affiliated with, organized, hosted or sponsored by SAE," LMU's Department of Public Safety stated in an alert and safety bulletin sent to university community members on Dec. 5, 2014, the paper reported.
Prior to the assault, the victim's parents stated she was searching for a bathroom when she entered a garage and a "larger man" followed her in.
"She noticed four other people in the garage, two guys and two girls, who quickly dispersed, walking out and leaving her alone with the stranger," the parents wrote. "She tried to leave. He wouldn't let her. In fact, he physically forced her to stay. That's when she was raped."
The girl immediately sought medical attention following the incident, and was taken to a rape treatment center in Santa Monica by a friend.
"We are extremely grateful to her friend who took the initiative to contact her own mother and get our daughter to the rape treatment center. That way, when the rapist is caught, he will be held fully accountable in court," the parents stated.
The parents stated that because of social media and media attention, there is evidence that people know who their daughter's attacker is.
"The public knows, thanks to Facebook comments left on news articles from the coverage in December 2014, that people know who it is. SAE members claimed it was not one of them, but the party was invite-only," the parents wrote.