This is an archived article and the information in the article may be outdated. Please look at the time stamp on the story to see when it was last updated.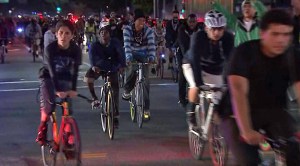 Its L.A.'s largest community bike ride – known as Critical Mass – thousands of bikers of all ages  pedal together the last Friday of each month for fun.
Participants say tonight they're riding for Damien.
36-year-old Damien Kevitt was riding his bike one Sunday morning –  near the soccer fields in Griffith park.
When he crossed an over pass –  he was struck by a van that made a sudden left turn.
Instead of stopping to help- the driver took off – with Damien still on the hood.
Damien slipped underneath the van and was dragged 600 ft down an on ramp onto the 5 Freeway.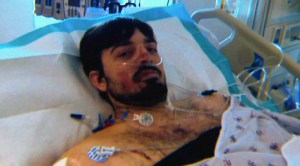 His body badly broken- deep gashes from his face down to his legs – his right leg had to be amputated – doctors are now working to save his left leg.
Michelle  Kirkland is Damien's mom.
She says tonight there's no where else shed rather be – then cheering on these bikers – riding to keep her sons spirits  high.
Damien has had 9 surgeries in 6 weeks – with more to come.
"He's looking forward to getting back on his bike- all of the support and the cyclist riding by tonight – really helps his healing," Kirkland says.
And for Critical Mass bikers, tonight isn't just for Damien, it's for the thousands of hit and run victims in Los Angeles.
Last year, the LAPD recorded some 20,000 hit and runs.
Nationwide, 11 percent of car collisions are hit and runs.
L.A. has more than quadruple the rate at 48 percent.
— Stefan Chase, KTLA News