This is an archived article and the information in the article may be outdated. Please look at the time stamp on the story to see when it was last updated.
Detectives with the Santa Clarita Special Victim's Bureau revealed Wednesday that 20 percent of their cases now involve sexting.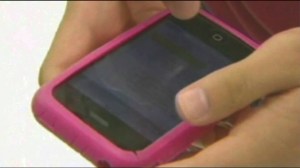 The City of Santa Clarita and members of its law enforcement team held a special workshop Wednesday for parents, educating them on the pitfalls of sexting and social media.
"There are laws that can be violated, reputations that can be damaged," Deputy Joshua Dubin of the Santa Clarita Valley Sheriff's Station told parents. "It's very powerful stuff."
Officials said more cases have surfaced over the years, where suggestive pictures intended to remain personal ended up in the wrong hands.
Their advice to parents: don't be afraid to be you child's watchdog, even if it means installing security devices on their phones to keep criminals at bay.
Kareen Wynters reports for the KTLA 5 News at 10 on Wednesday, April 23, 2014.