This is an archived article and the information in the article may be outdated. Please look at the time stamp on the story to see when it was last updated.
An 18-member team of physicians and nurses from Children's Hospital Los Angeles (CHLA) and Keck Medicine of the University of Southern California led an international effort to separate 6-month-old conjoined twins in Haiti.
Marian Dave-Nouche Bernard and Michelle Dave-Nouche Bernard, were born conjoined at the abdomen on Nov. 24, 2014.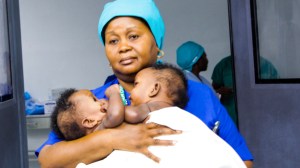 The girls were separated after a seven-hour surgery at University Hospital of Mirebalais, located about 36 miles northeast of the capital city of Port-au-Prince, according to a news release from CHLA.
After facing each other since birth, both recuperated in separate beds in HUM's neonatal intensive care unit.
Marian and Michelle were actually triplets. Their sister Tamar was born healthy and normal, said surgical team leader, Henri Ford, MD, MHA, the Haitian-born surgeon in chief at Children's Hospital Los Angeles.
Their mother, Manoucheca Ketan, 35, gave birth to all three of her daughters at HUM after carrying them for 36 weeks.
"It was an extraordinary moment," Ketan said, describing her reaction when she first laid eyes on her separated daughters. "When I first met Dr. Ford, he told me he was confident we could separate my children, but I didn't know how it would turn out when the day started. Now I am feeling a lot of joy and want to recognize and thank the hospital for everything."
"By doing the operation in Haiti, the children would benefit emotionally from the proximity of their parents and the surgery could be done more cost-effectively than if it were done in Los Angeles," Ford said.
In the coming weeks, the girls will undergo physical therapy to help strengthen their neck muscles, which were weakened due to facing in a single direction for such a long time.
They were expected to make a full recovery.