This is an archived article and the information in the article may be outdated. Please look at the time stamp on the story to see when it was last updated.
As Tibetans around the world celebrate the Dalai Lama's birthday Sunday, the wide-eyed monk in saffron and burgundy robes will be in Anaheim, kicking off a three-day Global Compassion Summit.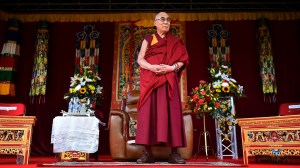 What draws Tenzin Gyatso — revered as a living Buddha — to the U.S. and, specifically, Orange County, for his special day?
The answer rests with a bald, soft-spoken monk whose assignment for the last decade has been to serve as the Dalai Lama's personal emissary for peace.
Lama Tenzin Dhonden, who lives in Lake Elsinore, is part attache, part advance man. Among his duties: organizing lectures and national tours, vetting speakers and finding partners that, he says, "do a great job for humanity." When not assisting the Dalai Lama, the 50-year-old Dhonden lectures in San Diego twice a week on consciousness and near-death experiences.
Click here to read the full story on LATimes.com.