This is an archived article and the information in the article may be outdated. Please look at the time stamp on the story to see when it was last updated.
CARLSBAD, Calif. – A fourth grade boy fighting for his life recently discovered the power of friendship.
"I was diagnosed with a brain tumor," Travis Selinka told Fox5.  "I went to Houston for radiation and I lost all my hair."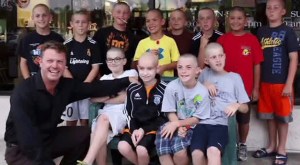 After the seven weeks of radiation therapy, the bald 10-year-old was embarrassed to return to school.
"He was a little nervous about coming back only because he didn't have hair," Travis' mother Lynne Selinka said. "He was afraid what the kids would think."
His friends at El Camino Creek Elementary School were quick to pick up on Selinka's feelings.
Fifteen of them went to the barber shop and shaved their heads.
Click here to read the full story on Fox5 San Diego.