This is an archived article and the information in the article may be outdated. Please look at the time stamp on the story to see when it was last updated.
It seems like the Los Angeles food world has been waiting for Eataly to open for, well, forever. If you've visited the locations in New York City, Chicago, Boston or Italy, you'll understand why. The large-scale Italian marketplaces, which include restaurants, cafés and markets, are like Disneyland for Italian food lovers. Imagine giant rooms full of fresh pasta, bubbly pizzas, rounds and rounds of cheese, baskets full of fresh bread and walls lined with bottles of wine stacked to the ceiling.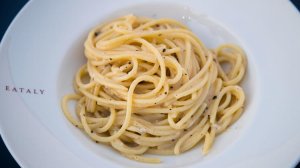 The Los Angeles Eataly, located in the revamped Northeast corner of the Westfield Century City mall, will open — finally — on Nov. 3.
It seems like a fitting time to open a giant space devoted to all things Italian, as the city experiences its own Italian food renaissance, with the opening of Felix, Rossoblu, Cosa Buona, Pizzana and Urban Oven, to name a few of the Italian newcomers.
Eataly founder Oscar Farinetti says he's been thinking about an L.A. location since opening the first Eataly in Turin, Italy, in 2007. Lidia Bastianich and her son Joe, as well as chef Mario Batali (Joe and Batali are both partners in the L.A. Mozza restaurants along with Nancy Silverton), are all partners and collaborators. There are now 13 locations in Italy, four U.S. Eatalys, and multiple iterations around the world for a total of 39. The next U.S. location will be in Las Vegas.
Read the full story on LATimes.com.