This is an archived article and the information in the article may be outdated. Please look at the time stamp on the story to see when it was last updated.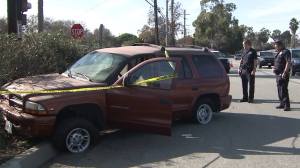 A carjacking suspect who police say shot two people and stabbed another before shooting himself in the head at the end of a wild pursuit Friday has died, Los Angeles police said.
Daniel Ramirez died shortly before 6 p.m. Saturday, Officer Mike Lopez said.
Ramirez was identified Saturday as an accomplice to Artyom Gasparyan, a 32-year-old man who police believe is responsible for a monthlong series of violent crimes — including robbery, carjacking, attempted murder and a fatal shooting — stretching across Los Angeles County.
Detectives with the LAPD's elite Robbery-Homicide Division have worked around the clock in recent days to find Gasparyan, whom police consider armed and dangerous. Police went public with their search Saturday evening, asking the public for help.
Click here to read the full story on LATimes.com.