This is an archived article and the information in the article may be outdated. Please look at the time stamp on the story to see when it was last updated.
Long Beach police on Wednesday were investigating a violent confrontation with a homeowner that left an alleged female suspect dead in the upscale Bixby Knolls neighborhood, authorities and neighbors said.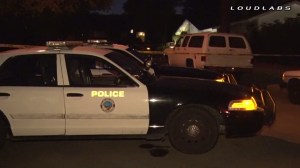 Officers initially responded to the 3900 block of County Club Drive shortly before 9 p.m. Tuesday after receiving a call of shots fired, according to Long Beach Police Department spokeswoman Marlene Arrona.
A woman had been shot and was pronounced dead at the scene, Arrona said.
Police later said they believed the woman, whose identity has not been released, was one of two people involved in the crime. Neighbors said they believed the pair were intruders.
"What we believe happened at this time is that the resident came home and possibly interrupted a crime in progress," Deputy Chief David Hendricks said. "And at some point in time, there was a shooting that took place, and we have a suspect of that original crime deceased."
One man said he heard up to three shots when he was talking on the phone with his father, who lived next to the 80-year-old burglary victim.
"An altercation took place, and he shot a woman," neighbor George Prince Jr. said. "I heard a couple pops, three pops."
Another neighbor said the homeowner has been the target of several break-ins in the past year.
"I remember the first break-in. They literally tore down the front door," said the male neighbor, who did not give his name. "And that's where I came in and met him. I said, 'Hey, what's going on? Are you OK?'"
The neighbor added the couple could be the same one that stole his car.
"Apparently the couple has been doing this neighborhood for quite some time," he said.
Neighbors fear they targeted the man because he was older.
"Some people have the ability to protect themselves, and other people don't," Prince said. "Fortunately this person had the opportunity to protect himself."
An accomplice to the woman got away, police said.
Police were continuing an investigation into the incident, and anyone with information about the incident was asked to call homicide detectives Mark McGuire and Greg Krabbe at 562-570-7244.
More Video: