This is an archived article and the information in the article may be outdated. Please look at the time stamp on the story to see when it was last updated.
A clerk who was described as a "friend of the neighborhood" was in critical condition Tuesday after he was shot during a robbery at a convenience store in Long Beach.
Officers responded to the area of East Seventh Street and Cerritos Avenue after a report of a possible assault with a deadly weapon shortly before 8 p.m. Monday, according to Long Beach Police Department spokeswoman Marlene Arrona.
When officers arrived, they determined that a robbery had occurred at a convenience store in the 1100 block of East 7th Street (map), Arrona said.
A man, described as an employee of the store by police, was rushed to a hospital in critical condition with a gunshot to his upper torso, according to Long Beach Police Department press release.
The victim was described as a "friend of the neighborhood" by Nathan Deluca, the neighborhood watch captain. He said the victim owned the store and that his son owned another business on the block.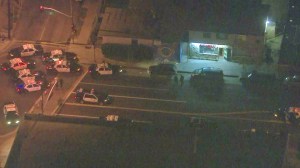 "They were always around and they were both very nice and caring to all of us in the neighborhood," Deluca said.
The victim was identified as Felix Avelar by his son, Sergio Avelar, who said his father was at St. Mary Medical Center in Long Beach.
"He held my hand tight. I told him we would get through this," Sergio Avelar said.
Rachel McClenton, who also knew the victim, said her son had just visited the store between 30 and 45 minutes before the man was shot.
"I talked to him every day," McClenton said. "It's a shame, he's really a nice man."
The shooter or shooters remained at large, and an investigation was underway, according to Arrona. Investigators hoped to be able to provide a description of the gunman.
The Long Beach Police Department asked that anyone with information call Homicide Detectives Scott Lasch and Donald Goodman at 562-570-7244. Anonymous tipsters may call 800-222-8477, texting TIPLA and the tip to 274637, or go to lacrimestoppers.org.
KTLA's John A. Moreno, Tracy Bloom, Ashley Soley-Cerro, Kareen Wynter and Christina Pascucci contributed to this report.