This is an archived article and the information in the article may be outdated. Please look at the time stamp on the story to see when it was last updated.
A mother and her 4-year-old daughter were fatally shot as they returned to their Long Beach home from the grocery store Saturday night, spurring a search for the shooter or shooters.
Officers first responded to a call of a "hit shooting" on East Ninth Street and Locust Avenue around 10:00 p.m. Saturday, according to Lt. Erik Herzog of the Long Beach Police Department.
When they arrived, officers found the mother suffering from multiple gunshot wounds. She was pronounced dead at the scene, Herzog said.
The daughter had been shot once and was transported to the hospital in critical condition. She died early Sunday morning from her injuries.
Police identified the victims as 26-year-old Carina Mancera and 4-year-old Jennabel Anaya in Sunday afternoon news release.
Although police initially described the shooting as a drive-by, spokeswoman Nancy Pratt later said the shooting was not a drive-by and the investigation is "very much ongoing."
A motive for the case was not known, and authorities did not have a description of the shooter or shooters.
Neighbors told KTLA that the mother and daughter were returning home from the market with groceries when the fatal shots were fired.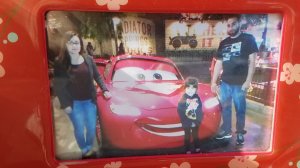 "It was chaos," said Francisco Ortiz, a neighbor. "Everything was blocked off. It's hard so close to home, it's a really quiet neighborhood. Nobody's ever had any problem over here."
Witnesses said that the father ran over from the family's apartment building to try and help, though police later stated that he had arrived home with the mother and daughter and was with them when the shooting took place.
Some residents reported hearing four gunshots ring out in the normally quiet neighborhood.
"We don't expect that around here. We have a lot of security," said Moses Hernandez, a neighbor. "The mayor lives in that building. That news is really bad for everybody around here."
Mourners stopped at the site of the deadly shooting to pay their respects, leaving flowers and candles at a makeshift memorial that grew throughout the day.
On Sunday night, dozens of people attended a candlelight vigil for the victims that was held at the scene.
Among those in attendance was Jennabel's pre-school teacher, who fought back tears as she described a "happy" little girl who loved to sing and dance in her classes.
"I was in shock," said Becky Abernathy, her voice choked with emotion. "We all just started talking … because we all shared responsibilities of teaching and watching the kids, and it was just unbelievable."
A GoFundMe fundraising page has been set up to help the dad cover the funeral expenses. As of Sunday night, it had raised nearly $9,000, with the goal set at $25,000.
Anyone with information about the shooting is asked to call the Long Beach Police Department at 562-435-6711. Anonymous tipsters may call Crime Stoppers at 800-222-8477.
KTLA's Geoff Peters contributed to this story.