This is an archived article and the information in the article may be outdated. Please look at the time stamp on the story to see when it was last updated.
A Long Beach mother is claiming medical malpractice after she says doctors misdiagnosed symptoms of her young son who had a penny lodged in his esophagus.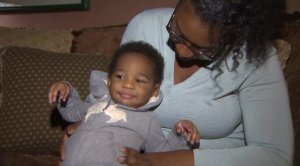 Samantha Knox said her son EJ was diagnosed with a viral infection after visiting doctors at HealthCare Partners in June, when the boy was 8 months old.
She said providers dismissed her concerns and requests for further testing despite the fact that his fever and rash were worsening.
"I couldn't understand why my son was going though this," Knox said.
She said she returned at least five times, but kept being pushed back. She added that the providers questioned her ability to pay.
"They weren't valuing my instincts as a mother, me knowing my son, me having carried this child in my womb," Knox said.
She finally decided to take EJ for emergency care at Long Beach Memorial Medical Center, where an X-ray revealed he had a penny stuck in his esophagus that was compromising his breathing.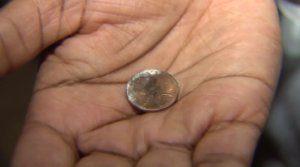 He was immediately taken to Miller Children's Hospital where the penny was removed. Specialists believe it had been there for three weeks or more, based on the corrosion, Knox said.
The family later learned from a specialist that the penny caused his symptoms and gave him two large ulcers.
Four months later, EJ is doing fine, but Knox wants the doctors who saw her son to be held accountable. She also wants her medical bills and loss of wages reimbursed.
"I was diligent, I was committed to ensuring that my son's health was my highest priority and I didn't feel as though anybody else considered those facts," Knox said.
She started a petition against the providers and asking them to be held accountable for their medical negligence and misdiagnosis. The petition has gotten more than 85,000 supporters.
HealthCare Partners responded after Knox sent letters of complaint to the company's corporate office, the urgent-care facility and the Medical Board of California. They told her to submit a claim, Knox said.
Her claim was eventually denied and HealthCare Partners told her their investigation did not find that the penny was stuck during EJ's visit to their facilities.
Knox said she received a response from the Medical Board of California saying they intend to pursue the case against the providers.
In a statement to KTLA, HealthCare Partners said the company is not allowed to comment on patient cases, but that quality care is at the core of what they do.
"Anytime a patient brings a concern to our attention we examine the facts surrounding the issue. There are times however when a claim simply does not align with the facts," HealthCare Partners said.