This is an archived article and the information in the article may be outdated. Please look at the time stamp on the story to see when it was last updated.
Long Beach officials have issued a shark advisory after the sighting of as many as a dozen juvenile great white sharks in the waters off Peninsula Beach.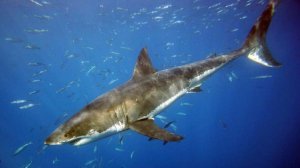 "Over the last several weeks, Long Beach Fire Department Marine Safety has received numerous reports of shark sightings near the Peninsula oceanfront," according to a statement posted by the Fire Department. "The level of confirmed shark activity this spring is consistent with that which was observed by Marine Safety in the spring of 2016."
The department attributed the shark activity to "a thriving aquatic ecosystem in the Long Beach Harbor." Warning signs have been posted at the water's edge to alert the public about the shark sightings.
"People are allowed to swim; beaches are open, but we want the public to be informed,'' Long Beach Marine Safety Chief Gonzalo Medina told City News Service. "The advisory will be in place through the weekend. We will evaluate on Monday and make a determination on whether to remove it or extend it."
Read the full story on LATimes.com.