This is an archived article and the information in the article may be outdated. Please look at the time stamp on the story to see when it was last updated.
Long Beach police are seeking to identify a person of interest connected to a series of robberies at a senior housing facility and subsequent sexual assault, officials said Wednesday.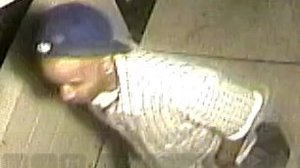 Four female victims between 63 and 95 years old reported similar crimes that occurred from Feb. 2 to Feb. 5 at various times between 5:45 a.m. and 7:45 p.m., all within the same housing complex near Atlantic Avenue and Via Carmelitos, according to a press release from the Long Beach Police Department.
Most the women reported a man knocking at their door, forcing his way inside and physically assaulting them before stealing items such as purses, cell phones and cash, authorities said. In one instance, the victim was robbed while walking near the housing facility, officers said.
The most recent incident allegedly escalated to a sexual assault. After ringing the doorbell and forcing himself into her residence, the suspect sexually assaulted the victim before fleeing with cash, according to police.
In that incident, fire personnel reportedly transported the victim to a local hospital with injuries that did not appear to be life-threatening. Miya Crutchfield, the victim's friend, said the woman is still in the hospital.
"We're all praying for her, and we all feel for her," Crutchfield told KTLA.
Crutchfield also described a tense atmosphere at the living facility, with residents isolating themselves in fear of becoming victims.
"It's awful because everybody is in their homes, they won't come out," she said. "They won't go to the laundromats, they don't come out to the community center — they are scared. Everybody's scared."
Authorities do not believe that the suspect was armed, but was successful in using coercion and bodily force, according to Long Beach Police Cmdr. Paul Lebaron. Lebaron also identified the man in the police-released image as a suspect
"This is very troubling," he said. "It's very concerning to us, this suspect who's committing these crimes clearly has no regard for people's safety and is targeting some of the most vulnerable people in our community."
Patrol officers searched the area surrounding the housing complex following the incidents but were unable to find any suspects. Video from neighborhood surveillance cameras has yielded a person of interest, who police describe as an African-American man approximately 25 to 30 years old, thin to medium build and between 5 feet, 5 inches and 5 feet, 11 inches tall.
Anyone with information regarding the case can call Long Beach Police Detective J. Kearns at 562-570-7368 or email LBPDSexCrimes@longbeach.gov.