This is an archived article and the information in the article may be outdated. Please look at the time stamp on the story to see when it was last updated.
Jack H. Brown, executive chairman of Stater Bros. Markets, died Sunday surrounded by family, the grocery chain announced Monday.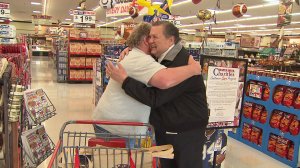 A native of San Bernardino, Brown started his career in the grocery business at age 13, working a box boy at Berk's Market Spot in his home town, according to the company.
In 1981, he joined Stater Bros., which was founded in Yucaipa in 1936. He was president and CEO for more than 35 years.
Earlier this year, he became executive chairman after appointing Pete Van Helden to take his place. The company now operates 169 supermarkets and employs some 18,000 people.
"Grief is not a strong enough word to describe what the Stater Bros. 'Family' feels," Van Helden said in a statement. "Jack touched every one of us in a very personal way, and it is that legacy that we must carry forward. He loved the business, his company and each one of us."
The company has teamed up with KTLA for several years to hold holiday food drives.
"Jack was a good friend to KTLA and more importantly a good friend to the community. He will be remembered for all of his charitable good works," KTLA President and General Manager Don Corsini said.