This is an archived article and the information in the article may be outdated. Please look at the time stamp on the story to see when it was last updated.
For years Sonia Hong has dished out hamburgers and fries on paper plates decorated with customers' smiling portraits and the inscription "just for you."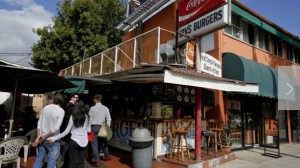 But fans of Irv's Burgers in West Hollywood will understand Thursday if there are frowning faces sketched on their plates as the 63-year-old walk-up eatery closes for the last time.
The burger stand, once a haunt for musicians such as Jim Morrison and Janice Joplin and featured as album artwork for a Linda Ronstadt recording, is being squeezed out by rising rents and the property owner's demand that the owners replace its leaky corrugated tin roof — something Hong says she cannot afford.
Customers lined up Tuesday for one last combo plate and to thank Hong, her brother, Sean, and mother, "Mamma-Soon," for the food and their friendly service.
Click here to read the full story on LATimes.com.