This is an archived article and the information in the article may be outdated. Please look at the time stamp on the story to see when it was last updated.
With about 12,000 residents spread across a few miles of suburban Southern California, Los Alamitos is better known for its good schools and small-town charms than political activism.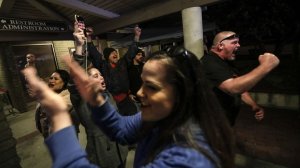 But the city now finds itself at the center of a rebellion against California's "sanctuary" policies, which aim to protect immigrants here illegally as President Trump vows to ramp up deportations.
Los Alamitos leaders on Monday approved an ordinance that exempts their Orange County municipality from Senate Bill 54, a law that took effect Jan. 1 and restricts local law enforcement's cooperation with federal immigration authorities. It marks a rare effort by a city to challenge the sanctuary movement, which has wide support among elected officials in left-leaning California.
Many cities have faced the ire of Trump and his administration for policies they say are too lenient toward those here illegally. The president slammed San Francisco over its sanctuary law, which he said had allowed a Mexican national who fatally shot a tourist to remain on the streets. And Oakland's mayor is now the subject of a federal investigation after she sent out an alert warning residents of an immigration sweep.
City council of #LosAlamitos votes to oppose #SanctuaryState law. A #blustery reaction from both sides. pic.twitter.com/NmO8qnvl5N

— Robert Gauthier (@rgaut999) March 20, 2018
It's quite clear that #Trumpism is alive and well in #LosAlamitos as the city council votes to oppose #California #SanctuaryState law. @theCindyCarcamo @latimes pic.twitter.com/h7A5a4tiGF

— Robert Gauthier (@rgaut999) March 20, 2018
BREAKING: Despite warning from the @ACLU_SoCal, the City of Los Alamitos passed 4-1 a proposed ordinance that violates their legal obligation to uphold the #CAValuesAct. They also added an amendment to file an amicus brief w/ Sessions' lawsuit against the state of CA. https://t.co/rfLEBYInTX

— ACLU SoCal (@ACLU_SoCal) March 20, 2018

Read the full story on LATimes.com.