This is an archived article and the information in the article may be outdated. Please look at the time stamp on the story to see when it was last updated.
In response to the Trump administration's move to rescind the DACA program for young undocumented people, Los Angeles could formally be declared a so-called "sanctuary city," a label elected officials have thus far resisted.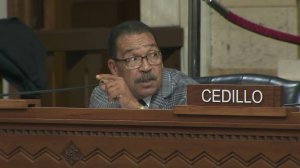 On Friday, City Council President Herb Wesson and Councilman Gil Cedillo plan to introduce a motion that would declare Los Angeles a "city of sanctuary," the two men announced Thursday.
The action comes after the city's immigrant advocate on Thursday outlined plans to protect those affected by the end of the Deferred Action for Childhood Arrivals program.
Threats made by the administration of President Donald Trump to "punish" sanctuary cities have "no basis in law and (are) meant only to intimidate local officials," Immigrant Advocate and attorney Peter Schey told a council committee Thursday, according to Wesson and Cedillo.
"I think the time has come for fire and fury in our response," Schey told the council. "That response has to come from local elected officials. ... This is a critical time for a local response."
Schey advised making the city a "Dreamer Arrest-Free Zone," the Los Angeles Times reported.
A 28-page memo Schey presented to the council's Immigrant Affairs, Civil Rights and Equity Committee outlines his plans, stating that the 200 or so jurisdictions that have declared themselves as "sanctuary cities" are not in violation of federal law.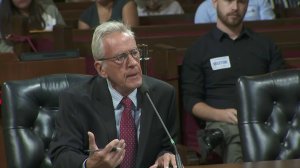 "Tens of thousands of DREAMERS live, attend school and work in the City of Los Angeles and are now overcome by feat about whether they will be rounded up and deported from the city where they grew up and have build their lives," the memo reads.
Los Angeles had thus far resisted activists' efforts to pass a formal declaration that it is a sanctuary city, but the city has for decades had an order barring police officers from questioning members of the public solely to determine immigration status. The jurisdiction also does not – without a warrant – turn undocumented immigrants over to federal authorities following local arrests.
In March, Mayor Eric Garcetti and LAPD Chief Charlie Beck responded to Trump administration threats to end some public safety funding for sanctuary cities by asking: What is a sanctuary city?
The label has no legal definition.
On Friday, the council will discuss which exact language to use.
We'll find out which term is preferable," Wesson told the Times. "Is it 'city of sanctuary,' which is what I personally like? But I don't know. I haven't had a conversation with the other members."
DACA allows people who were illegally brought to the U.S. as children, and who meet specific conditions, to live and work in the U.S. legally and defer deportation, letting them "come out of the shadows."
More than 222,000 California residents signed up for DACA, according to the latest federal government figures, which run through March 31. That's far more than any other state; nationwide, 787,580 people received approval for the program.
The "average" DACA recipient is in Los Angeles, from Mexico, and was brought to the U.S. at 6 years old, according to a New York Times analysis of federal data.