This is an archived article and the information in the article may be outdated. Please look at the time stamp on the story to see when it was last updated.
As beleaguered Southern California firefighters confronted yet another new brush fire on Wednesday morning, LAFD Chief Ralph Terrazas said his crews are exhausted.
"We're in the middle of a weeklong red flag condition. We're not done," Terrazas said. "My firefighters have been working since Sunday. Our people are getting tired."
Los Angeles firefighters have been deployed since Sunday, Terrazas said, in preparation for a period of critical fire weather. Santa Ana winds are gusting and humidity is low, making prime conditions for a spark to spread flames quickly, far and wide.
"With winds like these, it can be anything," Los Angeles Mayor Eric Garcetti said.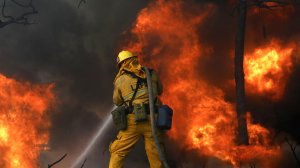 Los Angeles Fire Department crews are working both the Creek Fire, which Terrazas said may have burned 14,000 acres above Sylmar, and, on the other end of the city, the Skirball Fire, which erupted in Bel-Air before dawn Thursday.
Some 350 firefighters – 52 engines – were on the Skirball Fire, which had burned at least four homes and possibly six by 9:30 a.m.
About 400 firefighters were working the Creek Fire, which broke out early Tuesday, Terrazas said. About 30 structures have been destroyed there.
Fifteen engines from the Creek Fire were moved to the Skirball Fire Wednesday, the chief said at a morning news conference.
The two blazes in the city of Los Angeles came after LAFD had sent firefighters to the massive Thomas Fire in Ventura County.
"We are stretched thin. We are sending less resources to current 911 calls," Terrazas said. "We're being creative. … We're doing everything we can now to maintain public safety."
Speaking later in the day at an update on the Creek Fire, county fire Chief Daryl Osby likewise said his department is facing exhaustion.
"Most of our resources are pretty tapped. We've had firefighters that have been up for several days," Osby said.
If the wind dies down, firefighters will be able to get a handle on the blazes, Terrazas said. But Santa Ana winds are expected to continue and worsen overnight Wednesday into Thursday morning.
On Monday, the "brush burning index" in the city of L.A. was higher than Terrazas has ever seen it, he said. He's been with the department since 1983.
Any area that has brush in the city is under threat, the chief said.
Additional firefighters are coming to the region from Northern California and surrounding states, Obsy said.