This is an archived article and the information in the article may be outdated. Please look at the time stamp on the story to see when it was last updated.
The Los Angeles Memorial Coliseum has a new official name: the United Airlines Memorial Coliseum.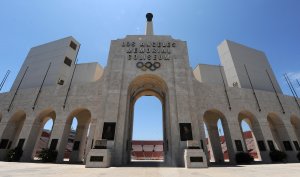 USC officials announced the change — the result of a 15-year, $69-million deal — on Monday at a groundbreaking ceremony related to the $270-million upgrade the 95-year-old venue is receiving.
The Coliseum, which opened in 1923, has been host to two Olympics — with a third coming in 2028 — two Super Bowls, a World Series and a papal Mass.
USC operates the venue, which is home to the Trojans football team and, temporarily, the NFL's Los Angeles Rams. The Rams will play at the Coliseum the next two seasons before their new home in Inglewood opens its doors for the 2020 schedule.
Read the full story on LATimes.com.