This is an archived article and the information in the article may be outdated. Please look at the time stamp on the story to see when it was last updated.
A Los Angeles police dog named Teo is recovering after being stabbed in the face by an assailant, officials said Saturday.
The incident occurred shortly before 12 a.m., when the dog was searching for "an outstanding suspect who had assaulted a police officer," the LAPD K9 Fund said on social media.
After being located by Teo, the assailant broke a bottle and stabbed the dog, according to an Instagram post.
Despite being injured, Teo "overpowered the suspect, allowing officers to safely take him into custody," the K9 Fund said.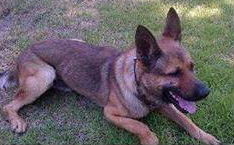 It was unclear where the person was detained. An officer with the LAPD's Media Relations section said she was unfamiliar with the incident.
The K9 Fund, which is affiliated with the LAPD's Metropolitan Division,  published a photo that appeared to show a stitched-up wound on the right side of the German shepherd's face.
The dog was "doing well" on Saturday, "and is off for a few days of well-deserved rest and relaxation," the Instagram post said.