This is an archived article and the information in the article may be outdated. Please look at the time stamp on the story to see when it was last updated.
Los Pollos Hermanos, the front restaurant from AMC's "Breaking Bad" and "Better Call Saul," will have a short-lived appearance as a pop-up in the downtown Los Angeles Arts District this week.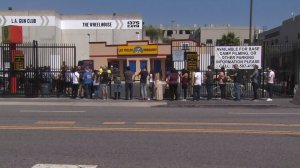 The temporary incarnation of the chicken restaurant from the two Albuquerque-based series will be open from noon to 10 p.m. Wednesday and Thursday at 1345 E. 6th St. A crowd was lined up outside the pop-up when it opened at noon Wednesday.
The stunt comes after a similar pop-up at SXSW in Austin, Texas, earlier this month. There were fries but no chicken available at that event, Eater Los Angeles reported.
Another pop-up will appear in Lower Manhattan's South Street Seaport district on April 9 and 10.
"Fans on both coasts will have the opportunity to enjoy Gus Fring's famous curly fries," states a news release.
https://twitter.com/Marquardtland/status/847166477052526592
The project is a partnership of AMC and Citizens Parking, which is allowing the pop-up to pop up on one of its parking lots. The restaurant appearances come in advance of the third season of "Better Call Saul," which premieres April 10.
In the series, notorious meth distributor Gustavo Fring, played by Giancarlo Esposito, uses his restaurants as a front for his criminal business.