This is an archived article and the information in the article may be outdated. Please look at the time stamp on the story to see when it was last updated.
The winning lottery numbers in the latest Powerball game were announced Wednesday evening. They were: 30, 47, 57, 66, 69 and a Powerball number of 3, according to the Multi-State Lottery Association.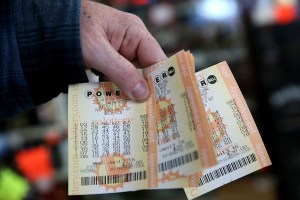 The jackpot was worth $361.5 million at the time of the drawing, the association said. It later grew to an estimated $415 million.
If the value of the grand prize were to remain unchanged by Saturday evening, when the next drawing is scheduled to be held, anyone who picks the six winning numbers could take a one-time $269.7 million payout -- or choose to get the entire sum in annual installments over 30 years.
None of the tickets sold nationwide matched all six winning numbers Wednesday, said Alex Traverso, spokesman for the California Lottery, adding that no one matched five numbers in California.
On Wednesday morning, lotto hopefuls dreaming of winning more than $300 million had begun lining up to purchase their Powerball tickets.
The prize for matching all six numbers in the drawing had grown to $348 million by the afternoon, according to the California Lottery website.
The jackpot climbed past the $300 million mark after no one won the grand prize in Saturday's drawing.
Less than four months ago the jackpot reached a record $1.586 billion.
Three winning tickets matched all of the numbers chosen in the Jan. 13 drawing, including one that was sold in Chino Hills.
Blue Bird Liquor, a store known for selling several jackpot-winning tickets in the past, had customers lined up  in Hawthorne before 7 a.m. already dreaming about how it would feel to win.
"That would be awesome," said one customer who planned to give some of the money to charity if he won.
Powerball tickets can be purchased at participating retailers for $2 apiece. Numbers are drawn at 7:59 p.m. on Wednesdays and Saturdays.