This is an archived article and the information in the article may be outdated. Please look at the time stamp on the story to see when it was last updated.
Louis Zamperini, an Olympic distance runner and World War II prisoner of war survivor whose story was detailed in the best-selling book "Unbroken," died on Wednesday at the age of 97 following a battle with pneumonia, according to his family.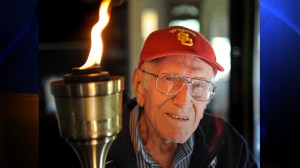 "After a 40-day long battle for his life, he peacefully passed away in the presence of his entire family, leaving behind a legacy that has touched so many lives. His indomitable courage and fighting spirit were never more apparent than in these last days," family members said in a statement released by Universal Pictures.
Zamperini's death came less than two months after he was named the grand marshal of the 126th Rose Parade, something he had called "an honor" at the time.
A statement from the Tournament of Roses released on Thursday said the organization was committing to honoring Zamperini as the grand marshal of the parade next January.
"We will remember and honor the courage and grace that made Louis who he was, and hope that by sharing his life's story, we can uphold the values which built his strength, perseverance and his ability to forgive others. Louis' life serves as an inspiration to us all," the statement read.
Born to Italian immigrants in Olean, N.Y. in 1917, Zamperini grew up in Torrance and was a world-class runner by the time he graduated from Torrance High School, a news release from the Tournament of Roses stated in May.
Zamperini went on to attend the University of Southern California on a track scholarship, where he co-captained the 1940 team and was a member of three squads that won NCAA championships, USC said. He also won two national titles in the mile run, while setting a collegiate record in the race that stood for 15 years.
Zamperini was "one of the greatest Trojans of all time," USC Athletic Director Pat Haden said in a statement on Thursday.
"He was the embodiment of the USC motto, 'Fight On.' All of us in the Trojan Family have a deep appreciation for what he did for USC and for our country, and we mourn the passing of this American legend," Haden added.
At the age of 19, Zamperini became the United State's youngest Olympic qualifier in the 5,000 meters, according to USC.He was the top American finisher in the race at the 1936 Olympic games in Berlin, placing 8th.
After graduating from USC in 1940 and retiring from running, Zamperini joined the U.S. Armed Services as a bombardier during World War II.
Zemparini was on a mission when his plane crashed in the Pacific Ocean. He spent 47 days adrift on a lifeboat in shark-infested waters, before eventually being found by the Japanese, according to USC.
He spent the next two years of his life in prisoner-of-war camps, where he endured torture and near-starvation at the hands of his captors.
Zamperini managed to survive the ordeal and eventually returned to the United States. His service earned him a number of honors, including three Purple Hearts, a Distinguished Flying Cross and Prisoner of War Medal, the university stated.
Later, Zamperini met with — and forgave — one of the Japanese military guards who had tortured him, according to the Tournament of Roses.
In 2010, his incredible story of survival was documented in Laura Hillenbrand's New York Times best-selling book, "Unbroken: A World War II Story of Survival, Resilience and Redemption."
"Confronting challenges that would cause most of us to surrender, Louie always persevered and always prevailed, and he spent the better part of his lifetime sharing the message that you could do the same," a statement from Universal Pictures read. "His example of grace, dignity and resilience inspired all of us lucky enough to know him and the millions who got to know him from the pages of Laura's book."
A movie adaptation by Angelina Jolie was set to be released in December by Universal Pictures.
"It is a loss impossible to describe," Jolie said in a statement. "We are all so grateful for how enriched our lives are for having known him. We will miss him terribly."
KTLA's Kennedy Ryan and Anthony Kurzweil contributed to this report.