This is an archived article and the information in the article may be outdated. Please look at the time stamp on the story to see when it was last updated.
Three luxury boutiques were vandalized on Melrose Place in Beverly Grove early Wednesday morning, police said.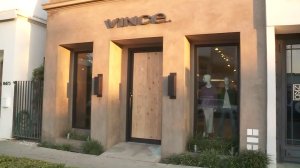 The windows of three businesses were broken sometime after midnight in the 8400 block of Melrose Place, Los Angeles Police Department spokesman Mike Lopez said.
Video from the scene showed a side window had been smashed at a business called Frame.
Adjacent to Frame, the front door of another business, Vince, was boarded up after it had been broken in the early morning incident.
Shards of glass could be seen both outside and inside the business.
Across the street, a third business by the name of Zimmermann also had to board up a glass door that had been smashed.
The vandals did get away with some cash from one of the businesses, although it was not clear which one, Lopez said.
Investigators will be searching for surveillance video of the incident.
KTLA's Stephen Acosta contributed to this report.