This is an archived article and the information in the article may be outdated. Please look at the time stamp on the story to see when it was last updated.
The Los Angeles County Sheriff's Department has misplaced one of its M-16 rifles, officials said Tuesday.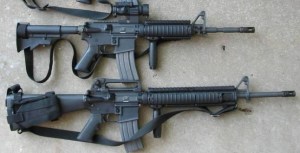 In an internal email sent to department supervisors Friday, Assistant Sheriff Todd Rogers said the weapon's disappearance was "embarrassing" and urged supervisors "to turn over EVERY rock to find this missing rifle."
Department spokesman Steve Whitmore could not immediately say when the gun was misplaced but noted that the department has been suspended by the Governor's Office of Emergency Services from receiving excess federal property because of the mishap.
"I can't emphasize enough what a big deal it is when we lose an assault weapon, especially one entrusted to us through" the OES, the email said.  "It's wrong. It's embarrassing," Whitmore told The Times on Tuesday. "How could this have happened? Honestly, we don't know."
Click here to read the full story at LATimes.com.