This is an archived article and the information in the article may be outdated. Please look at the time stamp on the story to see when it was last updated.
Police are searching for a carjacker who used a machete to steal a vehicle in East Hollywood early Wednesday morning.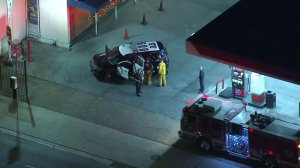 The incident was reported about 5:45 a.m. near the intersection of Fountain and Western avenues, Los Angeles Police Department Officer Mota said.
A machete wielding individual took the victim's gray Honda Accord during the carjacking, Mota said.
The victim was injured in the incident and taken to a local hospital in unknown condition.
Aerial video from Sky5 showed investigators talking to a man at the 76 gas station located on the corner of Fountain and Western.
It was unclear if the victim was getting gas at the station when the carjacking occurred.
No description of the carjacker was immediately available.
KTLA's Alexandria Hernandez contributed to this report.