This is an archived article and the information in the article may be outdated. Please look at the time stamp on the story to see when it was last updated.
Eight-year-old Madyson "Maddy" Middleton died from strangulation and stab wounds to the neck, authorities said.
Coroner's officials determined the girl died of "positional asphyxiation," or strangulation, and found stab wounds on her throat, said Lt. Kelly Kent of the Santa Cruz County Sheriff's Department. Maddy's death was ruled a homicide.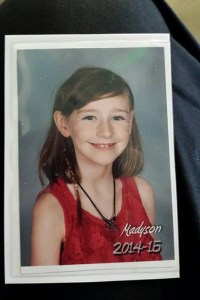 Maddy's disappearance July 26 from the Santa Cruz arts apartment complex where she lived with her mother touched off a frantic search that culminated about a day later with the discovery of her body in a recycling bin on the grounds.
A neighbor, Adrian Jerry Gonzalez, 15, was arrested shortly afterward. He has been charged with one count of kidnapping and four sexual assault-related offenses.
Click here to read the full story on LATimes.com.