This is an archived article and the information in the article may be outdated. Please look at the time stamp on the story to see when it was last updated.
Thrill-seekers disappointed that the iconic Colossus wooden roller coaster shut down for good last August will have reason to celebrate soon, as Six Flags Magic Mountain announced this week that its highly anticipated Twisted Colossus ride is scheduled to open to the public on May 23.
"Just announced! Twisted Colossus will open to the public on Saturday, May 23," Six Flags Magic Mountain tweeted Wednesday.
Billed as "the next generation of the beloved wooden roller coaster," the "world record-breaking" hybrid coaster combines the iconic wooden structure with what Six Flags Magic Mountain described in a news release as a "state-of-the-art Iron Horse Track."
The four-minute-long ride spans roughly 5,000 feet of track, making it the longest hybrid coaster in the world, the release stated.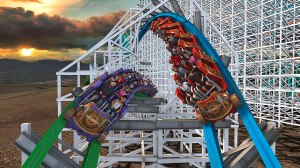 It will feature a steep 116-foot drop, 18 airtime lifts, a "High Five" — where two trains face each other as they pass through an overbanked turn, and a "Top Gun Stall" — an inversion where the train slows while it is upside down.
According to Bonnie Rabjohn, the president of the Valencia-based theme park, the new edition of the classic coaster will be faster and steeper.
"At Six Flags, innovation is in our DNA and with Twisted Colossus, innovation will go to an extreme level with record-breaking elements, faster speeds and steeper banks," Rabjohn said in the release. "This cutting-edge technology marries the best of both classic and modern coaster designs. It is definitely a twist on a traditional wooden coaster experience."
The original Colossus opened on June 29, 1978.  It delivered its last high-speed adventure more than 36 years later on Aug. 17, 2014.