This is an archived article and the information in the article may be outdated. Please look at the time stamp on the story to see when it was last updated.
A magnesium-fueled fire that burned through a metal recycling facility and commercial buildings in Maywood caused several explosions, prompted evacuations and a smoke advisory and left thousands without power Tuesday.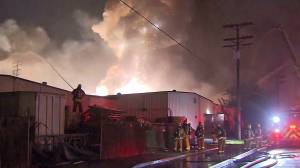 Powerful odors from the fire were reported in many parts of Los Angeles County, including as far away as the San Fernando Valley.
The fire began in the 3500 block of Fruitland Avenue about 2:30 a.m., according to the Los Angeles County Fire Department.
A commercial building and a storage yard at a metal recycling business were burning in a "well-established" fire on the border of Maywood and Vernon, fire Deputy Chief John B. Tripp said. The flames were burning the metals and spread quickly to a second commercial building and another storage yard, he said.
Water that was sprayed on the flames came into contact with burning magnesium, creating a violent explosion, Tripp said. Firefighters then stopped applying water to that area.
Video showed multiple fiery explosions coming from the burning buildings.
"The problem with magnesium is when water goes on it, it violently reacts," fire Inspector Randall Wright said.
The strategy was to let the metals burn and try to contain the fire to its current location, Tripp said.
About 200 people were evacuated from homes in the area, and several roads were closed, according to the county Sheriff's Department. The Maywood YMCA was provided shelter for affected residents.
Residents will not be allowed to return to their homes till Wednesday morning, sheriff's Cmdr. Eddie Rivero said.
Fire officials were assessing the chemicals and smoke emanating from the fire, Tripp said. The smoke was typical of that emanating from a building fire, he said.
Only the "exclusion zone," where firefighters were wearing masks, constitutes a hazardous condition.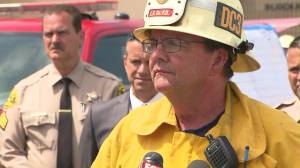 "There is no hazard to the public," Tripp said.
About 3 p.m., Tripp said firefighters planned to ensure all the smoldering fire was out and then confirm there were no more smoke and gases that could create a hazard to the public.
The firefight could continue through the night, and then authorities will need to determine how to handle the metals, he said.
South Coast Air Quality Management District officials issued a smoke advisory for central, south-central, and southeast Los Angeles County, saying air quality was likely to be unhealthy in those areas.
Odors from the fire were expected to be strongest around Maywood but were being reported elsewhere, including the San Fernando Valley, AQMD said.
More than 3,000 residents in the area were left without power when the fire erupted, according to the Southern California Edison website.
Power was restored to all but 153 of those customers by 5 a.m., according to Edison. The Fire Department was working with Edison and the city of Vernon on getting power back on in future, a fire official said.
A sheriff's deputy and Maywood city employee suffered smoke inhalation, Tripp said.