This is an archived article and the information in the article may be outdated. Please look at the time stamp on the story to see when it was last updated.
A 3.5-magnitude earthquake rocked the South Los Angeles area Sunday night, hours after a smaller temblor struck, according to the U.S. Geological Survey.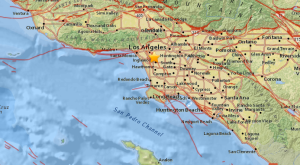 The quake hit about 1 mile southeast of Baldwin Hills and View Park-Windsor Hills, and about 11 miles north of Torrance.
KTLA viewers reported feeling it in the San Fernando Valley, Hollywood and Westside areas.
The temblor was at a depth of about 6 miles, and located near the Newport-Inglewood fault, according to USGS seismologist Dr. Lucy Jones.
The Los Angeles Fire Department quickly went into "earthquake mode," according to a tweet from fire Chief Terrazas.
The department previously described "earthquake mode" as dispatching firefighters from all 106 fire stations to "provide a complete and strategic survey of over 470-square miles in the greater Los Angeles area," according to a department Facebook post on April 4.
The survey was completed by 10:10 p.m. and no damage was found, LAFD tweeted.
Upon completion of a citywide survey post-#BaldwinHills quake, no damage, no injuries. Your @LAFD stands ready to serve LA.

— Chief Terrazas (@LAFDChief) April 13, 2015
The quake struck hours after a 2.5-magnitude temblor that Jones described as a foreshock.
Every EQ has a 5% chance of being followed by a bigger EQ. Having a foreshock doesn't increase chance of being a foreshock.

— Dr. Lucy Jones (@DrLucyJones) April 13, 2015
That temblor hit about 1 mile southeast of Baldwin Hills, 2 miles northwest of Inglewood and 3 miles southeast of Culver City, USGS stated.
Although the quake was initially reported to be a 2.9, it was revised within minutes to a 2.5 magnitude. It was at a depth of about 4.1 miles.
Some speculated that the quakes occurred because of oil drilling in the Baldwin Hills area, but Jones tweeted that the quake struck "way below the oil fields."
"The focal mechanism matches the Newport-Inglewood fault which was producing EQs long before we were pumping oil," Jones tweeted.
In the hour after the larger quake, some 4,000 people reported feeling it, Jones tweeted.
Hundreds took to social media following the larger tremor:
Thanks to all the #Dispatchers out there working hard to get us to every call safely! #telecomunicatorweek #dispatcherappreciation #week ^DC

— Arcadia PD (@ArcadiaPD) April 13, 2015
@KTLA I sure did.I'm Located near the Beverly Center.Had some glasses fall out my cabinets.Otherwise all is good.Some r reporting it was 3.5

— Danielle Krant (@90210Realtor) April 13, 2015

https://twitter.com/knarf4la/status/587478496051466240
@mester_mark Very sharp jolt and shake in Marina del Rey. Hit same area as the 2,5 earlier. 5 miles from the epicenter. No damage.

— Robert Grant (@RobtGrant) April 13, 2015

https://twitter.com/misskimcrawfcrd/status/587471607792177152
Earthquake in LA!

— Larry King (@kingsthings) April 13, 2015
@KTLA Near SM Blvd & Federal. The 3.5 felt like 2 strong bumps with the rumble. I feel a quick bump this morn too.

— Joe Spiegel (@joe221) April 13, 2015