This is an archived article and the information in the article may be outdated. Please look at the time stamp on the story to see when it was last updated.
A magnitude-3.8 earthquake rattled the Baldwin Hills area of South Los Angeles on Sunday morning, according to the U.S. Geological Survey.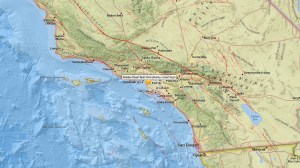 The epicenter of the quake, which struck at 4:07 a.m, was located about 1 mile west-northwest of View Park-Windsor Hills, 2 miles southeast of Culver City and 3 miles north-northwest of Inglewood (map), the USGS said. KTLA viewers reported feeling the temblor in Carson, Santa Monica, Norwalk and Downey.
The quake's depth was measured at 6.1 miles. Its magnitude was downgraded by the Geological Survey after initially being reported as 3.9.
Twitter user @hylyn6 said she "felt a hard jolt, then shaking for a few seconds" in Baldwin Hills.
There were no immediate reports of injuries or damage. The Los Angeles Fire Department said its 106 stations conducted a survey of the area's 470 square miles and were no longer in earthquake mode about an hour after the incident.
"The M3.9 (prelim) EQ this morning was not big enough to wake up Pasadena," USGS seismologist Dr. Lucy Jones said on Twitter. "Near the 4/13 EQ, but not the same fault. This one is thrust."
Jones was referring to a magnitude-3.4 earthquake that hit near Carson on April 13. That temblor was caused by the Newport-Inglewood fault south of Baldwin Hills, she said.