This is an archived article and the information in the article may be outdated. Please look at the time stamp on the story to see when it was last updated.
A magnitude-4.4 earthquake struck at 5:48 p.m. Tuesday near Devore and was followed by at least 20 aftershocks, according to the U.S. Geological Survey.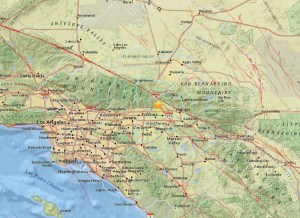 The initial temblor struck at a depth of 3.5 miles, and it was near the intersection of the San Andreas, San Jacinto and Cucamonga faults, according to seismologist Lucy Jones of USGS and Caltech.
Its epicenter was near a residential development called Rosena Ranch close to Devore, northwest of the San Bernardino area.
No injuries or damage were immediately reported, San Bernardino police Chief Jarrod Burguan said on Twitter.
Patrol officers were "busy with the volume of alarm calls following the quake," Burguan tweeted. "Shakers tend to set them off."
Reactions on social media indicated people felt the quake as far away as San Diego, Anaheim, Long Beach and Burbank.
USGS first reported the quake as a 4.3, but that was soon upgraded to a 4.4. On the agency's website, more than 7,100 people in more than 500 zip codes reported feeling the seismic event.
"Like any other" earthquake, the temblor has a 5 percent chance of trigger a larger earthquake, Jones said on Twitter.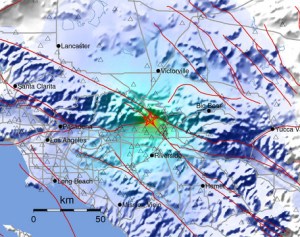 "Probably only a little bit bigger," Jones tweeted.
Multiple aftershocks were reported, including a magnitude-3.8 quake and a 3.2 temblor that both struck within a few hundred feet of the initial earthquake, according to the coordinates provided by USGS.
Twenty aftershocks happened within two hours of the initial earthquake, Jones said on Twitter, adding that "normal" for a magnitude-4.4 is between 0 and 50 aftershocks.
On KTLA's Facebook page, Inland Empire residents reported feelings described as a "quick jolt" followed by "rolling" or "shaking" that lasted several seconds.
"It sounded like someone was throwing something in my house. It shook quite a while and my dogs were just going crazy," said KTLA viewer Rosy Cervantes of San Bernardino on Facebook. "Then we felt the second one the aftershock. The foundation of my house sounded like it was cracking."
Corona resident Karen Trent-Deddeh said the temblor "shook the whole house."
The region has seen nine earthquakes of a magnitude greater than 4.0 since 2005, Jones said, calling it "a pretty active part of SoCal."
The Los Angeles Fire Department reported it was in "earthquake mode."