This is an archived article and the information in the article may be outdated. Please look at the time stamp on the story to see when it was last updated.
A 4.5 magnitude earthquake struck early Thursday in Berkeley, California, according to a report from the US Geological Survey, jolting some residents of the densely populated San Francisco Bay area awake in their beds.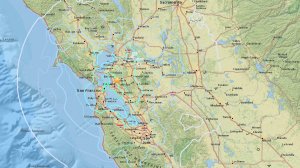 The earthquake hit at 2:39 a.m. and was centered near the Berkeley-Oakland boundary along the Hayward fault, which sits atop a densely populated area.
There were no immediate reports of damage in the area, the state Governor's Office of Emergency Services said.
Major damage was not expected as a result of the quake, but "there's always a possibility of some minor damage to older structures in the area," U.S. Geological Survey seismologist Robert Sanders told the Los Angeles Times.
Some residents in the area told CNN affiliate KPIX that the quake shook them awake. A quake of this intensity generally would produce moderate shaking felt by nearly everyone near the epicenter, awakening many people and having the potential to break some windows and dishes, the USGS says.
"It shook our house and shook the bed big time," Gina Solis of San Rafael, across the San Francisco Bay from Berkeley, told KPIX.
In Hayward, a few miles southeast of Oakland, Robert Hilton says he woke up to a sensation that something might be running into his house.
"I thought a car hit my house," Hilton told CNN affiliate KRON. "I got up and checked outside and there was nothing."
The area's commuter trains will be delayed in the morning so that inspectors can check the tracks, Bay Area Rapid Transit said on Twitter.
The Hayward Fault passes through Berkeley and extends through several cities on the east side of the Bay Area.
The fault could produce a magnitude 7 or greater tremblor, according to the Los Angeles Times.
https://twitter.com/johnDemotto/status/948870882176286720