This is an archived article and the information in the article may be outdated. Please look at the time stamp on the story to see when it was last updated.
GREENVILLE, Calif. (KTLA) — A magnitude 5.7 earthquake struck Northern California on Thursday night and was felt over a wide area, officials said.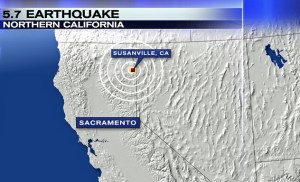 It happened at 8:47 p.m. and was centered about 27 miles southwest of Susanville and 150 miles northeast of Sacramento, according to the U.S. Geological Survey.
Residents said the quake felt like a slow and steady roll that lasted for about 30 seconds.
Several smaller quakes followed, including a magnitude 3.5 temblor.
There were no reports of any major damage or injuries.