This is an archived article and the information in the article may be outdated. Please look at the time stamp on the story to see when it was last updated.
A tsunami advisory was issued for the Central and Southern California coastline Thursday morning, one day after a deadly magnitude-8.3 earthquake hit Chile, according to the National Tsunami Warning Center.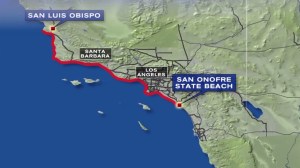 The advisory extended from Orange County's San Onofre State Beach, located in San Clemente, to Ragged Point, which is roughly 50 miles northwest of San Luis Obispo.
The energy from the tsunami arrived in the Los Angeles Harbor at 5:20 a.m., and off Santa Monica 10 minutes later, according to the National Weather Service.
The surge arrived in Ventura at approximately 5:39 a.m.; Santa Barbara started feeling the effects of the tsunami at 5:45 a.m.
The times were slightly later than forecasters had predicted.
During the morning hours, several coastal points saw fluctuations in tide, including Santa Monica, Ventura and Port San Luis, the weather service reported.
The greatest surge was in Ventura, at 1.1 feet about the tide level, the weather service's Oxnard office reported.
There were no reports of flooding, damages or injuries, and the advisory was cancelled after noon.
While no significant coastal flooding had been expected, the federal tsunami center had warned that potential impacts for areas under the tsunami advisory could include strong current or waves that could be dangerous to those in or very near the water. Additionally, currents could have been hazardous to swimmers, boaters and coastal structures hours after the tsunami arrived.
The impacts from the tsunami had been expected early in the morning, but the National Weather Service said it could take several hours for waves to peak.
Shortly before 6:45 a.m., the weather service tweeted that the tsunami advisory would remain in effect "until further notice."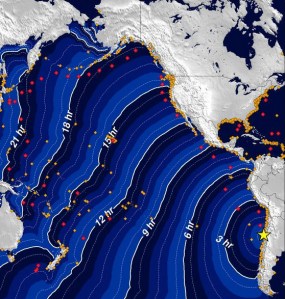 The advisory prompted the closure of all beaches, harbors and marinas in Orange County, according to the O.C. Sheriff's Department. The closures started at 4 a.m.
All beaches in the county reopened at 6 a.m., according to sheriff's Lt. Jeff Hallock.
No evacuations were ordered, but the Sheriff's Department warned everyone to "stay out of the water."
The dangerous conditions also prompted the Los Angeles County Sheriff's Department to issue a similar advisory.
Sheriff's officials advised the public to avoid jetties, beaches and harbors while the advisory was in effect.
"When you look at it vertically, 1 foot of water isn't that big of a deal. But when you look at the amount of volume of water that is being pushed around 1-feet high, there's a lot of kinetic energy behind it," sheriff's Sgt. Robert Boese said.
He added, "We are telling people to stay away, because that can potentially knock boats off, boats that are not properly tied. It could loosen them, knock them into other boats, cause boats to sink, knock people into the water, potentially trap people in the water as they fall off the docks and things of that nature."
The Tsunami Advisory continues to be in effect until further notice.

— NWS Los Angeles (@NWSLosAngeles) September 17, 2015
A graphical summary of the latest peak tsunami wave heights. #CAtsunami pic.twitter.com/J8LLMVWyLT

— NWS Los Angeles (@NWSLosAngeles) September 17, 2015
#Timelapse over the course of 10mins in #KingHarbor. About 13" of surge in/out of the harbor from the #Tsunami. pic.twitter.com/0UIClzvfSb

— LACoFD Lifeguards (@LACoLifeguards) September 17, 2015
More Video: