This is an archived article and the information in the article may be outdated. Please look at the time stamp on the story to see when it was last updated.
More than 180 firefighters responded to a "major emergency fire" burning in downtown Los Angeles on Saturday evening after flames erupted at a pallet yard.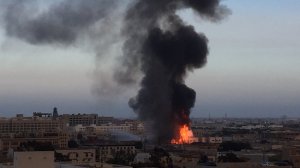 Six buildings were affected and one was a "total loss," Margaret Stewart of the Los Angeles Fire Department said.
When firefighters arrived after being called to  748 S. Ceres Ave. at 6:51 p.m., an outside pallet fire was fully involved. Surrounding buildings were exposed to flames.
Firefighters were forced into defensive mode at one building and they tried to save other structures.
The building that was a total loss was expected to continue to burn overnight. Full of textiles, the building was unstable and unsafe to enter, Stewart said.
"The pallet yard is completely gone," said Firefighter David Ortiz on scene. "No firefighter injuries as of now, but we do have a lot of firefighters that are spent, pretty tired."
The blaze came on a day when downtown L.A. saw record-tying heat for the date, with a high of 97 degrees. Smoke and ash cast a pall over the area from the 20,000-acre Sand Fire burning about 27 miles to the north-northwest.
Photos and video posted to social media showed smoke rising above downtown buildings, and one user initially reported hearing explosions.
The Fire Department urged people to avoid Ceres Avenue between Seventh and Eighth streets. The immediate area, south of Skid Row and the Arts District, is largely industrial with some housing.
#CeresIC #LAFD #MajorEmergencyFire Defensive on 1 bldg & Offensive on 2 sty commercial – working to save structure pic.twitter.com/RUZwKoh5vw

— LAFD Talk (@LAFDtalk) July 24, 2016
We see the fire hose streams now. No more loud explosions. #skidrow #dtlafire #dtla #lafire pic.twitter.com/sJPheZfNlF

— Bao Vo (@baovo) July 24, 2016
Flames are taller than buildings now. #dtla #dtlafire #skidrow pic.twitter.com/AqbawDe1ak

— Bao Vo (@baovo) July 24, 2016
La city fire working a big one 7th and Central. Please Avoid the area. #LAFD #lacityfire pic.twitter.com/1zUFbUv3MO

— Officer Rob (@RealOfficerRob) July 24, 2016
#KTLA #news pic.twitter.com/TuDlvreRFJ

— Global Prepaid (@GlobalPrepaid1) July 24, 2016