This is an archived article and the information in the article may be outdated. Please look at the time stamp on the story to see when it was last updated.
A mandatory evacuation remains in effect for all Malibu residents Tuesday as flare-ups from the Woolsey Fire continue to present challenges for firefighters, but some have stayed behind to help thwart what they suspect could potentially be another problem for the community: looters.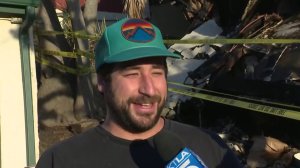 Malibu has been particularly hit hard by the massive inferno, with an unknown number of homes destroyed since the wildfire began ravaging the area after jumping the 101 Freeway last Friday.
Among the handful of residents who chose to remain at home despite the area-wide evacuation order is Sam Bassett.
Standing amid the devastation of the Point Dume community on Tuesday morning, Bassett told KTLA his decision to stay was motivated not just by concerns of potential looters, but also by a desire to help out those still in the evacuation zone.
"There's really nobody else that was going to stay," he said, noting some in his building might need assistance at some point. "I just wanted to make sure that nobody lost anything more than they already had, and the people who needed help in here to get out could, if someone needed to help them."
On Monday night, Bassett was making gas deliveries to help out firefighters around Malibu when heard a troublesome report on the radio.
"We actually heard it come over the radio that people were coming in by boat to start stealing things, and that people were dressed as officers, dressed as firemen, and taking what they could," he said.
Bassett immediately went back to his residence and grabbed a rifle, along with and a mask to filter out the wildfire smoke. He then waited outside the Malibu Gardens Condominiums, located in the area of Kanan Dume and Cavalleri roads, ready to ward off any looters.
"I really wasn't going to take any chances with this community, I figured it had lost enough already," he explained.
Thus far, there haven't been any reports of looting in L.A. County; however, two people were arrested over the weekend in connection with two separate looting incidents in Ventura County, where the Woolsey Fire also laid waste to some communities there.
As of Monday, approximately 600 Los Angeles County Sheriff's Department deputies were placed on looter patrol in evacuated areas to ensure residents and their property are protected, according to a statement from the agency.
Still, with the wildfire still a threat, and even as there is no water or power in the area, Bassett is committed to staying at his home and doing anything he can to help.
"The community has lost so much, and anything I can do to help out, from keeping people out of other people's homes to dropping off fuel … I'm going to stay here and do it," Bassett said. "This is my town. It always has been, and I love it here, and I'm not going anywhere."