This is an archived article and the information in the article may be outdated. Please look at the time stamp on the story to see when it was last updated.
MALIBU, Calif. (KTLA) — Some Malibu residents were raising concerns on Thursday over a plan for one property owner to keep up to five tigers in their community.
A property owner in upscale Deer Creek has applied to the county to run a tiger-training facility.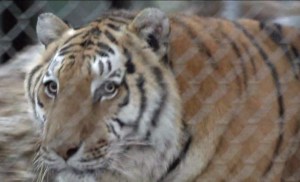 The tigers would be used for filming purposes in the entertainment industry, she said.
The county permit was just the first step in getting the green light for the tigers.
However, just the thought of having tigers in their community had many Deer Creek residents seeing red.
They argued that having wild animals known to be dangerous living in any residential community was a disaster waiting to happen.
"Fences can be jumped, mistakes can be made with handlers and caretakers and electric fences, things like that," neighbor Ilene Mickens said.
"The neighbors are not happy, obviously, about it," resident Dan Bercu said.
"It's really an inappropriate use to have five, 1000-pound Siberian tigers in a quiet west Malibu residential neighborhood with young kids," he said.
The animals would apparently be kept in an enclosure on a 19-acre property.
They would be in individual cages with a chain-link roof on top, as well as fencing around the enclosure.