This is an archived article and the information in the article may be outdated. Please look at the time stamp on the story to see when it was last updated.
A mama bear and her cub on Wednesday wandered into a Monrovia neighborhood, where they snacked on avocados and spent hours in a tree as residents looked on.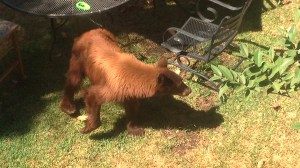 Jon Gonzalez was at his girlfriend's house in the 200 block of East Olive Avenue (map) when he saw the the bears walking around in the backyard.
"The don't usually come down this far" from the nearby Angeles National Forest, Gonzalez said. "It's amazing. They do look thirsty and hungry. With this heat, I'm sure they're just seeking out water."
Animal control officers believe the bear is a female with two or three cubs. Authorities later said the mother bear was with just one cub.
The animals were about 1 1/2 miles south of the foothills of San Gabriel Mountains, which are habitat for black bears.
Gonzalez was able to snap several photos and shoot a short video of the bear and her cubs before it took to a tall tree.
Residents could be seen setting up lawn chairs along the street so they could watch the bears move around in the tree.
Officials were attempting to get the bears back into a safe environment.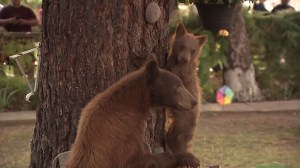 "We're going to let nature take its course," said J.C. Healy of the California Department of Fish and Wildlife. "We're going to let [the mother bear] just go on her clock."
About 8:30 p.m., police cleared the area near the home where the bears had climbed the tree, asking residents to stay indoors in hope that the animals would voluntarily return to their habitat in the mountain area north of Monrovia.
"Everything's working in our favor. It's working in the bear's favor," Healy said. "She came down, the cub came down. People were all pushed back. It's a lot quieter here. There's less negative stimulus in her way."
KTLA's John A. Moreno contributed to this report.
More Video: