This is an archived article and the information in the article may be outdated. Please look at the time stamp on the story to see when it was last updated.
SAN DIEGO — With her first two litters at the San Diego Zoo's Safari Park, the lion Oshana was a good mother.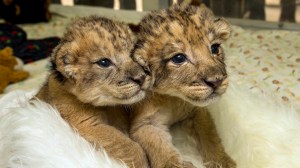 But with her twins born Dec. 6, Oshana seems to lost her mojo for maternity.
Enter the keepers at the park's animal care center. The cubs are now at the center, getting bottles of kitten-starter formula every two hours.
The female cub now weighs 3.5 pounds, the male 5.5 pounds. She's feistier than he is. Each sleeps about 20 hours a day, just like adult lions.
Click here to read the full story on LA Times.com.