This is an archived article and the information in the article may be outdated. Please look at the time stamp on the story to see when it was last updated.
A 22-year-old Pico Rivera man was charged Wednesday with one felony count of evading an officer, the day after leading police on a slow-speed pursuit in El Monte, authorities said.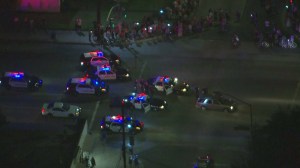 Gregory Patrick Flexen was previously convicted of aggravated battery by gassing in 2012 and vandalism in 2011, according to a statement from the Los Angeles County District Attorney's Office.
The chase began about 7:15 p.m. near the intersection of Ranchito Street and Cypress Avenue (map), where officers attempted to pull over a vehicle that had no front license plate, authorities said.
The vehicle's rear license plate was found to be connected to an outstanding warrant, said Sgt. Eric Sanchez of the El Monte Police Department.
A pursuit ensued, during which Flexen ran red lights, drove on the wrong side of the road and reached unsafe speeds, prosecutors said.
Police set up a spike strip, which blew out multiple tires when the vehicle drove over it, aerial video showed. The suspect continued driving for some time, then came to a stop and was arrested near Peck Road and Elliot Avenue (map) about 8:10 p.m.
About 20 to 30 bicyclists followed the pursuit, which lasted almost an hour, and hundreds of bystanders gathered to watch officers take the driver into custody.
Flexen was scheduled to be arraigned Wednesday afternoon in Los Angeles Superior Court. Prosecutors recommended that his bail be set at $95,000.
If convicted as charged, he faces a maximum sentence of five years in state prison, according to the District Attorney's Office.
KTLA's Ashley Soley-Cerro contributed to this report.