This is an archived article and the information in the article may be outdated. Please look at the time stamp on the story to see when it was last updated.
A 22-year-old Los Angeles man was sentenced to nine years in state prison Thursday in the hit-and-run death of a bicyclist in Highland Park last June.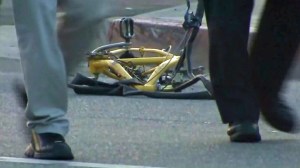 Alexis Virto pleaded no contest last month to one count of gross vehicular manslaughter while intoxicated, according to a news release from the Los Angeles County District Attorney's Office.
The crash occurred around 3 a.m. on June 26 as Virto was driving northbound on Figueroa Street near Pasadena Avenue, the release stated.
Vitro was believed to be traveling between 60 and 80 mph when he struck 33-year-old cyclist Jose Luna, according to the Los Angeles Police Department.
Luna was riding in a crosswalk with a green light when he was struck by the speeding car, police had said. The impact severed one of a Luna's legs.
He died of multiple traumatic injuries, according to the county coroner's office.
Prosecutors said Virto drove away with Luna on his hood for about 200 yards.
Virto was still drunk and had windshield debris in his hair when he was arrested at his home several hours after the crash, according to police.