This is an archived article and the information in the article may be outdated. Please look at the time stamp on the story to see when it was last updated.
A 23-year-old man has reportedly been arrested after the release of a surveillance video that shows a young boy being slapped in the face and falling to the ground in a Bakersfield grocery store.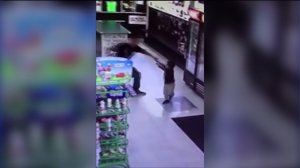 Justin Whittington, 23, of Bakersfield, was taken into custody by police Thursday night and questioned about the incident in the video, KERO-TV reported.
Whittington was booked on suspicion of assault on a child, a felony, according to the Kern County Sheriff's Office. His bail was set at $1,000,000.
Police were able to quickly locate the suspect after it was posted and shared online Thursday, officials told KERO.
The child was not seriously injured in the incident, which occurred at Vest Market in the 1800 block of Chester Avenue.
The video shows him running through the aisles of the store. The man runs after the boy, slaps him, then picks him up off the ground.
The child is holding his face and apparently crying as a woman takes his hand and leads him out of the market.