This is an archived article and the information in the article may be outdated. Please look at the time stamp on the story to see when it was last updated.
A man and three juveniles have been arrested after allegedly breaking into a Foster Farms facility near Fresno and using a golf club to slaughter more than 900 chickens, authorities said.
Gabriel Quintero, 18, two 17-year-olds and a 15-year-old were taken into custody Wednesday, according to a news release from the Fresno County Sheriff's Office. The names of the juveniles were not released because they were underage.
The incident occurred on the morning of Sept. 20 in Caruthers, where the suspects pulled back a portion of a fence and entered a chicken shed at the facility, investigators said.
The intruders then used a golf club and possibly another similar instrument to beat some 920 chickens to death, the Sheriff's Office said. The value of the birds was estimated at just under $5,000.
In a statement sent out Thursday, Foster Farms commended the Sheriff's Office for the arrests for what the poultry company called an "unconscionable act of violence and animal cruelty."
Information about the investigation was distributed Tuesday to media outlets, generating calls from multiple tipsters.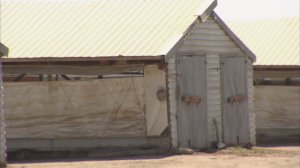 One of those tips identified the three juvenile suspects, who lived at a home in Visalia, about 40 miles southeast of the Foster Farms location, according to the news release.
Information about the incident and alleged perpetrators had been spread via social media, authorities said.
About 3:30 p.m. Wednesday, deputies and detectives from the sheriff's Ag Task Force went to the Visalia residence and contacted two of the suspects, ages 15 and 17. The boys were taken into custody after evidence linking them to the crime was discovered at the location, officials said.
The other 17-year-old suspect was arrested about 7 p.m. at a home near Lemoore. About two hours later, Quintero was taken into custody at an apartment in Fresno.
All four suspects were booked on charges of burglary and felony cruelty to animals, the Sheriff's Department said.
On Wednesday, San Rafael-based animal rights group In Defense of Animals (IDA) said it was offering a reward of up to $2,500 for information leading to the arrest and conviction of those who killed the chickens. The organization was also offering a second reward of up to $1,000 for evidence of animal cruelty on the part of employees at Foster Farms facilities.
Foster Farms said it was working with law enforcement to distribute its own $5,000 reward in the case. The company has a "zero tolerance policy for animal cruelty," it stated.
KTLA's Melissa Pamer contributed to this article.