This is an archived article and the information in the article may be outdated. Please look at the time stamp on the story to see when it was last updated.
A 36-year-old man was killed Tuesday morning when a fire broke out inside his bedroom in the Mid-City section of Los Angeles, authorities said.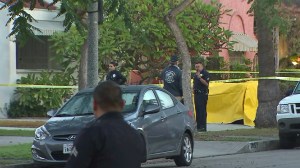 The blaze was reported around 5:30 a.m. in the 2300 block of South Orange Drive (map), according to the Los Angeles Fire Department.
The fire was confined to one room of the 1,100 square foot home, the fire department said.
Because the house did not have working smoke detectors, the victim was not able to get out in time.
"An unfortunate situation… no smoke detectors in the house," Battalion Chief Steve Ruda said.
There were also two elderly women in the house at the time of the fire.
Both managed to escape with very minor injuries and were treated at the scene, the fire department said.
Firefighters pulled the man from the bedroom, but he died before he could be taken to the hospital.
"The individual was overcome by the smoke and died at the scene," Ruda said.
The man's death was the seventh fire fatality in the city of Los Angeles this month, the fire department said.
The number of fire-related deaths was higher than average, according to the LAFD.
Ruda urged residents to make sure they have working smoke detectors inside their homes.