This is an archived article and the information in the article may be outdated. Please look at the time stamp on the story to see when it was last updated.
A driver and his two young children who died after a crash involving multiple vehicles on the 91 Freeway in Artesia early Saturday morning have been identified by the Los Angeles County coroner's office.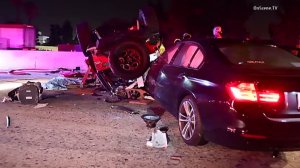 Lavell Mann, 33, Logan Mann,  3, and 9-month-old Legend Mann were all killed in the collision, which California Highway Patrol Jeremy Tolen said occurred shortly after 1 a.m. on the westbound 91 west of Pioneer Boulevard.
A red Jeep was traveling in the No. 3 lane when it rear-ended a gas tanker trunk.
"That collision sent the red Jeep out of control and into the center median, which caused another collision," Tolen said.
The second crash caused the Jeep to overturn; it was hit immediately after that by a BMW sedan, according to the officer.
All three occupants of the Jeep died in the crash, he said.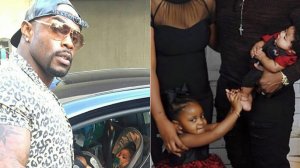 Tolen initially identified the victims as a man, a 6-year-old girl and an infant before the coroner's office identified the victims and released their ages.
Mann was the father of the two young children, according to a GoFundMe page set up to support his family.
A woman and a child in the BMW sustained minor injuries in the collision, he added. It was not known whether the driver of the big rig was injured.
Speed was believed to have played a role in the collision, according to Tolen. He said the Jeep was traveling in excess of 55 mph, which was the speed of the tanker truck when it was struck from behind.
Alcohol was not believed to have been a factor, according to the officer.
KTLA's Geoff Peters and Briana Epps contributed to this story.