This is an archived article and the information in the article may be outdated. Please look at the time stamp on the story to see when it was last updated.
A 71-year-old man was found dead in a home in Compton Saturday morning after an apparent drug-related robbery, Los Angeles County Sheriff's Department officials said.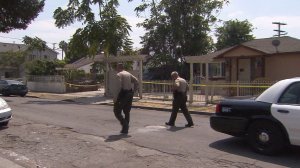 Deputies responded to a call about a possible dead person in the 800 block of West 134th Street. Paramedics who also responded declared the man dead at the scene.
Witnesses told investigators that the victim was renting a room in the home when two men entered the room and attempted to rob him. Sometime during the robbery the man "succumbed to his injuries," officials said in a news release.
It is unclear how the man died and the incident is under investigation. The manner of death will be determined by the Los Angeles County Department of Medical Examiner-Coroner. The victim has not been identified.
Investigators said the victim was possibly selling narcotics at the home and the suspects were trying to rob him of money and drugs.
Anyone with information about this incident is encouraged to contact the Los Angeles County Sheriff's Department's Homicide Bureau at 323 890-5500.