This is an archived article and the information in the article may be outdated. Please look at the time stamp on the story to see when it was last updated.
An 87-year-old man was critically injured after being robbed and assaulted while out for his morning walk near the Rose Bowl in Pasadena, police said Saturday.
Pedestrians called 911 after finding the elderly victim lying on the ground on West Drive north of Salvia Canyon Road just after 5 a.m. on Friday, according to the Pasadena Police Department.
The victim had sustained major head trauma and remained hospitalized in critical but stable condition the following day.
His pouch, which contained money and personal identification cards, was taken during the robbery.
Less than 30 minutes after the robbery, four people were caught on video at a Pasadena gas station trying to use the victim's credit card, a police news release stated.
Based on the surveillance footage, police released photos of four people — three Hispanic males and a female — who they were searching for in connection with the incident.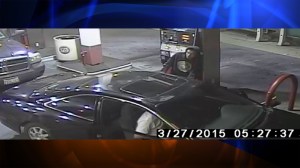 Police described one man as being in his 20s with a medium build, dark-colored hair and a beard. He was wearing a white T-shirt, light-colored shorts and tennis shoes.
The second person was described as a male in his teens to early 20s with a thin build and short black. He was wearing a dark-hooded sweater, light-colored shorts and black and white tennis shoes.
The third was a man in his 20s. He has a stocky build and thick eyebrows, and was wearing a white T-shirt and dark-colored pants, according to police.
The fourth person was a female in her teens, police said. She was wearing a dark-colored sweatshirt with lettering on the front.
Additionally, investigators were looking for their vehicle, described as a black 2003-2004 Honda Accord with a sunroof.
Authorities were asking anyone who can identify the four people in the photos to call Pasadena police Det. Tim Bundy at 626-744-3953, Sgt. Mike Bugh at 626-744-4525, or police dispatch at 626-744-4241.
Anonymous tips can be left by calling Crime Stoppers at 800-222-8477.
More Video: